With the release last month of Penfolds range of premium wines it seems like a good time to have a look at some of the earlier bottles available from this company.
I won't delve into the history of Penfolds as there are plenty of resources online already dealing with the subject, e.g. here is the Wikipedia entry.
Most collectable Penfolds bottles date to the 1910s-1920s (except of course that many Penfolds wines such as Grange are themselves collectables!).
Claret shape: Penfolds were predominately a fortified wine producer in the early 20th century but these bottles would have contained table wines. Below is a range of colours and ages. The clear glass bottles contained whites and the darker green or amber bottles the reds. The amethyst bottle in the middle would have started out as clear glass but Manganese Dioxide was widely used as an additive in glass to remove the green tinge and create truly clear glass. However with years in sunlight this compound itself changes and gradually turns the glass amethyst or purple. All these bottles are embossed "The property of Penfolds Wines Ltd" in some form near the base and then variously have "Penfold" or "Penfolds" at the other base edge and/or shoulder. The amber bottle on the right is close to a modern day style and dates to about 1930.
Fortifieds: Like the Claret shapes these come in a range of colours (by the way I've only shown a small selection of both types). These are embossed similarly to the Claret types. Note that the two bottles to the left have the same base mark which shows the mould for these was made in 1917. As they are quite crudely made collectors often think these types of Penfolds bottles are earlier than they truly are. An important note here is that the company "Penfolds Wines Ltd" as embossed on most of the bottles found was formed in 1913. Again the bottle on the right is the latest in this series and of much more regular design dating to the early 1930s.
Brandy: Another major production of Penfolds were various styles of Brandy. Below are typical brandy bottles in Amethyst of late 1920s vintage. The other bottle is a nice Hock style but with Old Liqueur Brandy label with vintage 1914. This bottle however is a mid 1920s era bottle which would fit in with the release of a nice aged Brandy.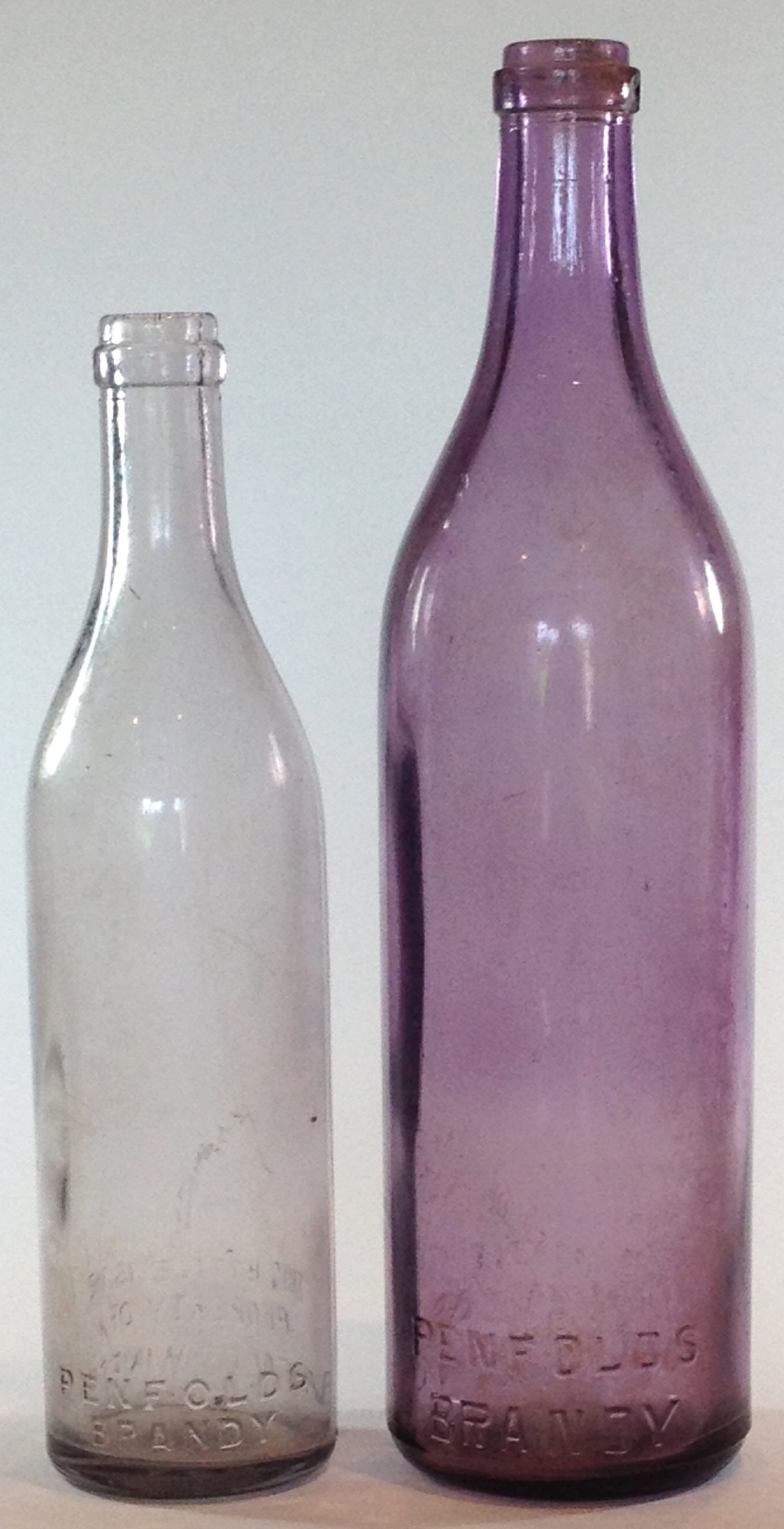 Amongst the bottle styles shown above are numerous other variations. In general the Penfolds bottles are pretty cheap even for really attractive varieties – they were an enormous company and their bottles are quite numerous. Original labelled varieties are very rare. A very attractive display can be created of Penfolds bottles along with their enormous range of advertising, ephemera and so forth.