R. Andrews, Wine Merchant, Bassendean. Amber glass quart wine bottle. c1920s
I haven't found a lot of background on this particular bottle but Robert Andrews died in early 1931 having apparently been in Western Australia since around 1910. His death notice mentions being in Bassendean for a "few years". The bottle itself is mid-late 1920s vintage. 
On the 2nd July 1929 in the West Australian, Andrews name (and occupation as a vigneron) appears in a list of petitioners to have Bassendean granted a new liquor licence as at that time there were no licensed premises in the area.
After Robert Andrews' death his widow Myrtle continued the wine making business. Although the only references I've yet found are about thefts of wine that took place from the cellars.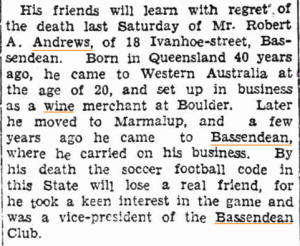 Death notice for Robert Andrews, The Daily News (Perth), 2nd February 1931.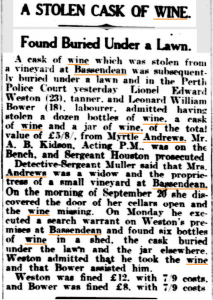 The West Australian (23rd September 1931)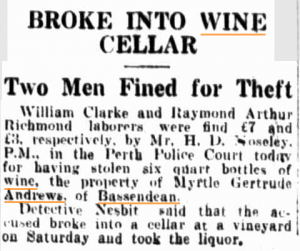 The Daily News (Perth) (12th June 1933).