P. Gambetta, St Bernard Vineyard, Stawell.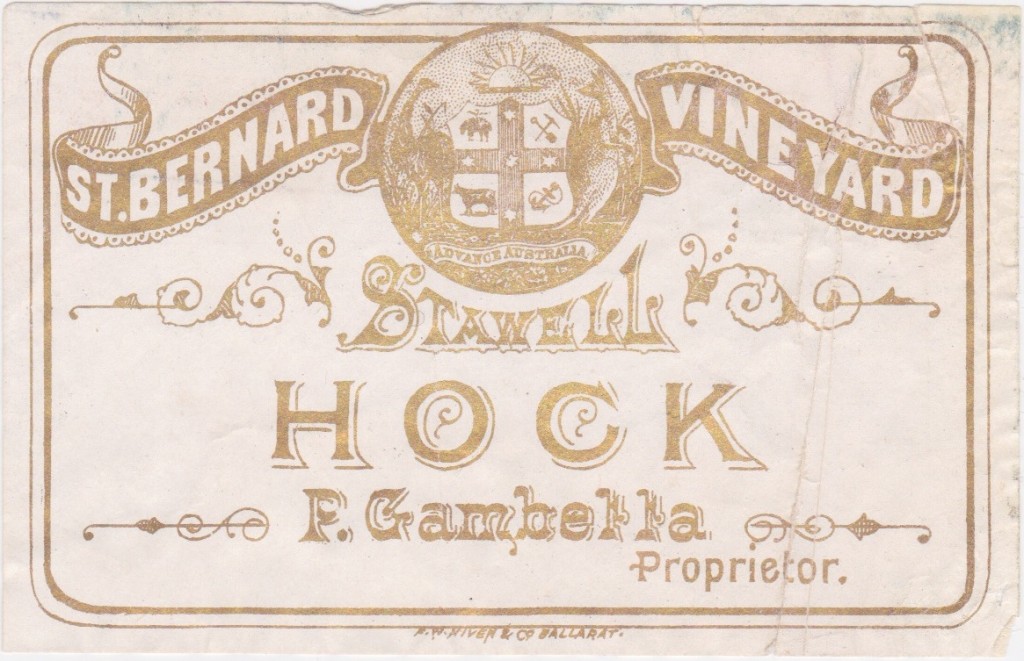 The original label above was part of a group of labels that had been in a printers sample folder from Niven & Co, Ballarat. The various labels dated from the late 1880s to about 1903 and the Federation promoting Australian Coat of Arms on this one put it firmly in the 1890s to early 1900s period.  On first glance the name of the proprietor appears to be Gambella but further research confirms that Peter Gambetta was the vigneron in question.
From the Horsham Times, Tuesday 9th June 1931, Page 4.
"The death occurred on Friday, at the age of 89 years, of one of Stawell's oldest residents, Mr Peter Gambetta, who has been a resident of this district for more than half a century. Born in Ticino, Italy.  Mr. Gambetta came to Victoria 71 years ago and was one of the hardy pioneers who took part in the Stawell gold-rush. Satisfied with the prospects offered by this district after the goldfields had ceased to boom, the late Mr. Gambetta applied himself to the wine business, and became a successful vigernon, planting St. Bernard vineyard on the Campbell's Bridge road in 1871. At other times he engaged in farming and grazing, and at the time of the gold-boom he had carried out a great-deal of carting from the Darlington, Deep Lead and other mines to the Welshmen's Battery. The late Mr. Gambetta finally retired about 14 years ago, settling down after his retirement in Stawell."